Mitsubishi Hitachi Power Systems targets New Kuwait 2035
8 April 2019
In line with the goals of the New Kuwait 2035 economic diversification mandate that aims to diversify the Arab country's economy away from oil revenues, Japan-headquartered Mitsubishi Hitachi Power Systems (MHPS) was invited to conduct an advanced technology seminar in Kuwait, highlighting the use of gas turbine combined cycle power generation systems.
More than 150 participants to attend including Kuwaiti MEW officials, IPP and EPC representatives
CPresentation of solutions utilizing the latest technologies to ensure a stable energy supply in Kuwait
The event was held at the Jumeirah Messilah Beach Hotel & Spa, and attended by over 100 representatives of Kuwait's power industry, including MEW Undersecretary H.E. Mohammed Boshehri. Japanese Ambassador to Kuwait Takashi Ashiki also attended as a representative of Japan. MHPS Senior Executive Vice President Akimasa Muyama gave the opening address.
Vice President Muyama stated in his address, "Kuwait's electric power business is currently in the midst of transformation. Replacing oil-fired plants with natural gas or renewable energy will reduce or eliminate carbon. The increase in renewable energy requires addressing the issue of power system stability. MHPS', latest generation of gas turbine technologies combined with MHPS digital solutions are capable of ensuring a stable energy supply for Kuwait."
The seminar focused on MHPS' gas turbine technologies with 100MW and above, for which MHPS held the top global market share through 2018. Also highlighted were carbon free hydrogen fueled gas turbines, and "MEGAMIE," a hybrid system combining solid oxide fuel cell (SOFC) with micro gas turbines. Also featured were MHPS TOMONI and AI solutions which together will enhance power plant operations with the aim of autonomous operation. Other topics included discussion on MHPS' installed footprint in the region, and MHPS projects that have contributed to Kuwait's energy sector.
MHPS's gas turbines systems are claimed to provide low-cost energy with reduced emissions. According to a statement by MHPS, the company – formed in February 2014 following the merger of the thermal power generation divisions of Mitsubishi Heavy Industries and Hitachi – is deploying new technologies in Kuwait to encourage the use of natural gas.
NEW KUWAIT 2035 - The Kuwait National Development Plan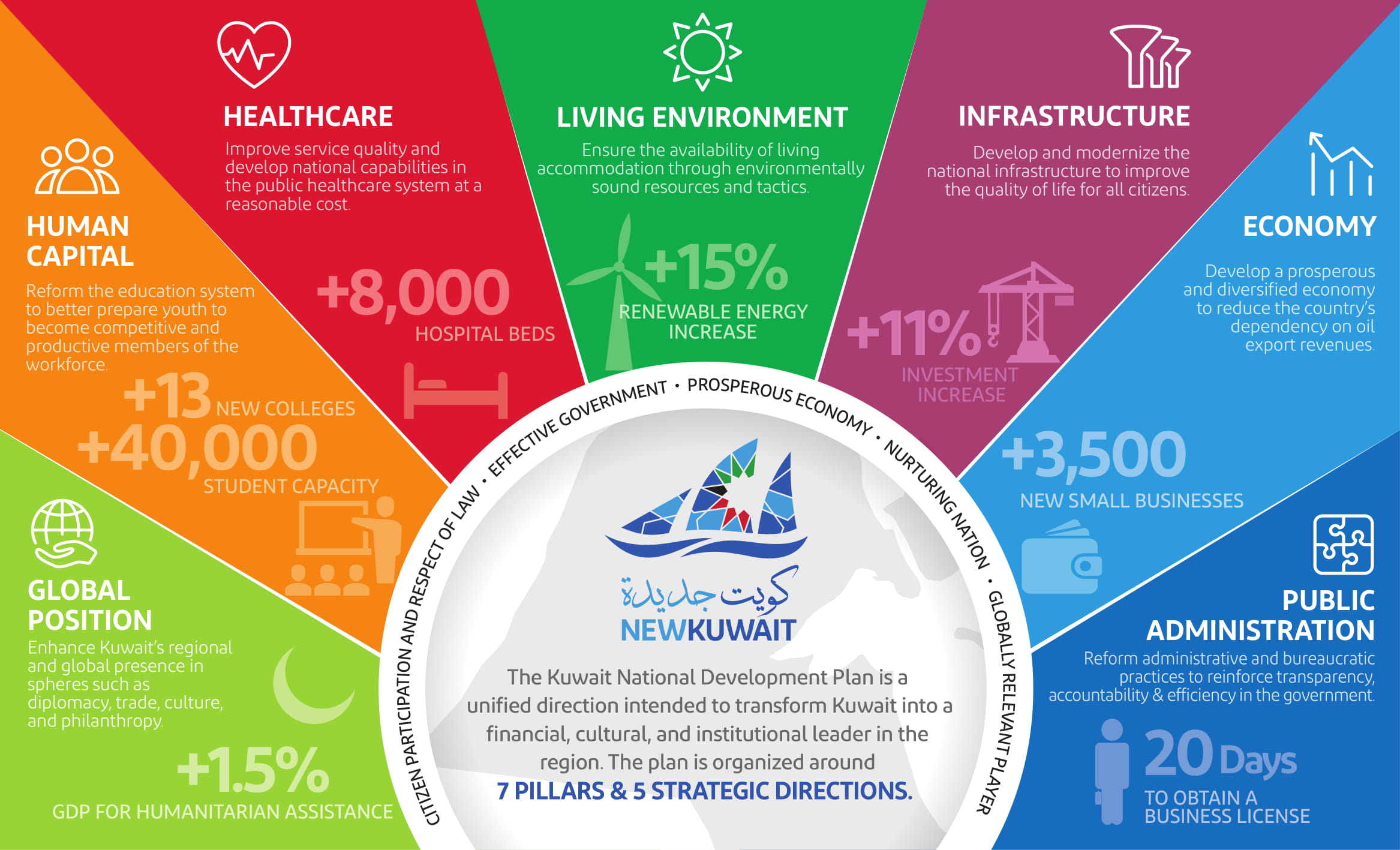 The National Development Plan is based on the vision of His Highness the Amir Sheikh Sabah Al-Ahmad Al-Jaber Al-Sabah to see the State of Kuwait by 2035. Currently, efforts are underway to achieve the objectives of the National Development Plan through seven basic pillars aimed at transforming Kuwait into a leading regional financial center Commercial, cultural and institutional by 2035.